About Us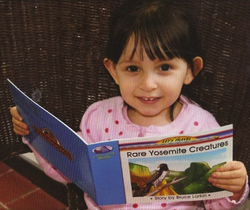 Too many children in the Inland Empire live in homes with few or no books and attend schools and programs where books-to-take-home are in short supply. Encouraging children to read is futile when books are not available.
The books are selected by classroom teachers and are given directly to children in need. Our clients determine how best to meet the needs of the children with whom they work.
The Inland Empire Children's Book Project helps to build literacy by putting books into the hands of children who have little or no access to them. We are modeled after the
East Bay Children's Book Project
which, by working through individuals and organizations who help children in need, has given out more than ONE MILLION free books since opening its doors in May 2005.
---
---
Board of Directors
Bernice Lowenstein, Chair
CPA, San Bernardino, Retired

Erin Brinker
Radio Broadcaster and Nonprofit Consultant

Tobin Brinker
Middle School Teacher and Talk Show Host

Rabbi Hillel Cohn
Rabbi, Congregation Emanu El, 2010 San Bernardino Bicentennial Committee Chair

Chehab El Awar
Past District Governor, Rotary District 5330

Art Gallardo
Elementary School Principal, San Bernardino, Retired

Eileen Gallardo
Human Resources Manager, Retired

Aaron Katz
Insurance Agent, San Bernardino, Retired

Ina Katz, Ph.D.
Lecturer in Education, CSU San Bernardino, Retired

Barry Lowenstein
Systems Engineer, San Bernardino, Retired

Susan Shimoff
Professor Emeritus, San Bernardino Valley College

---
Service Clubs
We are honored to be the pilot program of
Rotary District 5330's
Million Books 4 Kids Initiative
.
We welcome support from all service clubs and organizations who share our mission to put
books into the hands of children who do not have books.
For more information about volunteering time, collecting and donating books please call
(909) 742-0346 or send an email to
volunteers@iecbp.org
.