Donate

Make a Donation Online
Donations can be made one-time or recurring.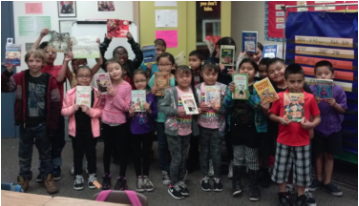 $35 a month will buy books for an entire classroom of kids each month. For the cost of two cups of coffee a week you can help to give the gift of literacy to our region's children and prosperity to our region. When making your online donation, please check the box for a recurring donation.
---
Mail-In Donation

The Inland Empire Children's Book Project is a 100% volunteer organization. If you would like to make a financial contribution by regular mail it to: IECBP, P.O. Box 11873, San Bernardino, CA 92423. If you have a question please call (909) 742-0346.


Books

Most of the books distributed by the Inland Empire Children's Book Project are ones that local children have outgrown. Others are new books donated by individuals and businesses. We are always on the lookout for multicultural and foreign language books to serve our diverse communities.
If you want to organize a book drive at your school, office, club or place of worship, please call us at (909) 742-0346. We can provide you with a Guideline for a Successful Book Drive, a banner, lawn posters and brochures for advertising, letter of explanation for parents, office staff, club members or congregants, as well as arrange for the books to be picked up.


Tax Status

The Inland Empire Children's Book Project is a 501(c)(3) nonprofit corporation.