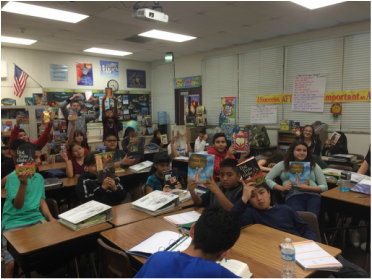 Students from Cypress Elementary
---
Your Book and Cash Donations Matter!
This is the last week of book distribution for the 2015-16 academic year by the Inland Empire Children's Book Project and we are so grateful for everyone who helped us to provide more than 26,000 books since we opened our doors in 2015. We will be sending out a newsletter soon recognizing our supporters and we would love to include you.
With summer upon us, we are in need of books. August will be here before we know it and we need thousands of books on our shelves to meet the needs of San Bernardino City Unified Schools. There are two ways you can help to get books in the hands of San Bernardino students:
1) Donate books for children. We especially need chapter books for 3rd - 6th graders, and fiction for middle and high school students. We will pick them up from your location (some restrictions may apply).
2) Donate cash to allow IECBP to purchase discounted books from First Book. Every dollar counts. Children's books range in price from $1.50 to $7.00 each. Books are distributed to entire classrooms so that each child in the class receives a book at the same time. Please click
HERE
to make a tax-deductible donation ​
---
Inland Empire Children's Book Project is a 100% volunteer 501(C)(3) nonprofit organization with the mission of providing books at no cost to organizations serving children in need. Through partnerships like with the San Bernardino City Unified School District, we are able to fulfill our mission with very low overhead.