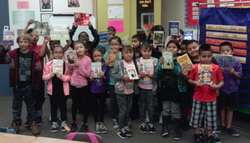 We are so excited to kick off this school year. Each SBCUSD teacher should have received a note from the district inviting them to visit IECBP on specific dates. We will also be emailing invitations to the teachers on our list (ones who have visited before) with the dates the teachers at their school are welcome to attend. In the first week (8/18 & 8/20) we will be hosting teachers from Arrowview Middle and Riley, Barton, Highland-Pacific, Monterey and Hunt elementary schools.
We will keep this invitation-only schedule throughout our start-up phase. We are constantly cultivating new sources of books and once our supply is large enough, we will open our doors to other districts and nonprofit organizations.
We thank all of our donors without whom this project would not be possible.
For more information please send an email to
info@iecbp.org
or call (909) 742-0346